Recent News
Keep up to date with the latest Dowsing news here.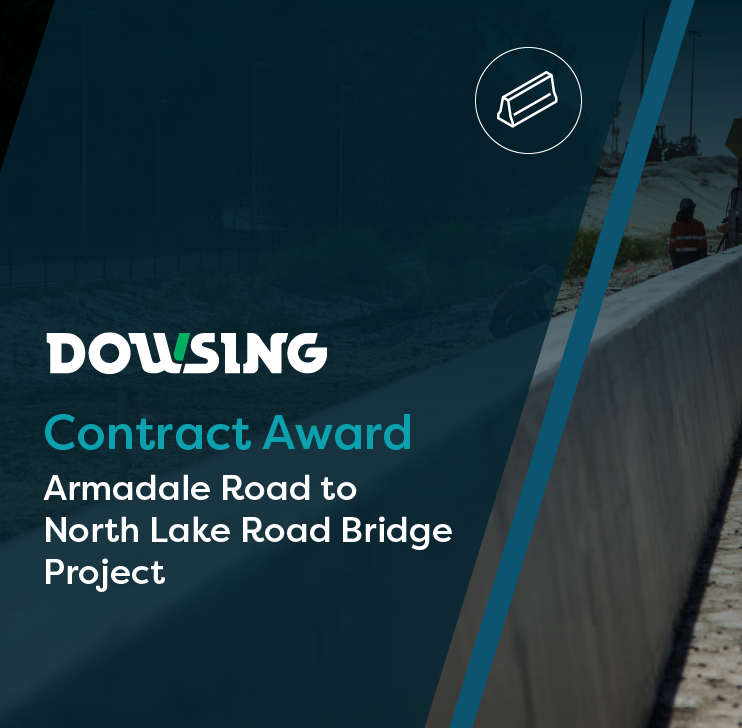 Dowsing Awarded Armadale Road to North Lake Road Bridge Project Slipform Contract
Dowsing Group is pleased to advise that we have been awarded the slipform concrete barrier contract for the Armadale Road to North Lake Road Bridge Project being delivered by the Armadale Access Alliance. Selected as the preferred slipform contractor, the project will involve a bridge constructed to connect the recently upgraded Armadale Road with North...
Slipform: The Go-to Method for Large Concrete Construction
There's no doubt that the use of slipform concrete has completely changed the concrete construction industry in Perth. Here are a few key reasons: Slipform machines produce continuous, non-interrupted, cast-in-place concrete barriers with an exceptional finish. The machines are fast and efficient, require less labour and the concrete is faster drying. Slipform machines allow for...
Dowsing Group Secures City of Joondalup Road Profiling Contract
Dowsing Group is set to provide road pavement profiling services to the City of Joondalup after being awarded the City's profiling contract for a period of up to 5 years, commencing November 2020. The contract marks another milestone for the Dowsing Profiling division and highlights our commitment to providing diversified services that assists enhancing local...
Business News Feature: Keeping it in the family
Dowsing Group brothers, Bohdan and Sam Dowsing, spoke with Business News on the company's hardscapes division leadership change. Keeping it in the family at Dowsing has been pivotal to our growth in the local government sector and the foundations of the family-values culture at Dowsing. Recently, the hardscapes division baton was passed on to Sam...
Dowsing Profiling add Wirtgen 2m to WA Road Profiling Fleet
Another milestone in the Dowsing profiling expansion was reached this month with an additional Wirtgen 2m Road Profiler to our WA road profiling fleet. The recent purchase adds to Dowsing's extensive Wirtgen range of equipment and further secures our position as a leading subcontractor in WA's civil construction industry. Combining our commitment to investing in...
Dowsing Group awarded platinum status in WorkSafe's Plan Audit
Dowsing Group is very proud to announce we have been awarded 'Platinum' status for our Safety Management Systems under the WorkSafe Plan Audit. The WorkSafe Plan Audit is a comprehensive government-led assessment by the Department of Mines, Industry Regulation and Safety (WorkSafe) used to rate workplace safety and health management and to assess the extent...
Rio Tinto's Silvergrass East Project: Slipform Concrete Conveyor Footing
Dowsing Group constructed 8.4 km of slipform concrete overland conveyor footing at Rio Tinto's Silvergrass East iron ore mine, which opened in 2017. Dowsing was contracted by RCR Tomlinson, the lead process contractor, on the $468 million project to complete the slipform component, which holds a large scale conveyor for the iron ore mine.  This was the...
Dowsing Group AS & ISO Accredited
Our ISO and Australian Standard accreditations were a significant undertaking but the benefit of our hard work was realised in December 2017 when we became one of the ISO certified construction companies in Australia. ISO stands for 'International Organisation for Standardisation' and is a certification which demonstrates that our company follows both internationally recognised and...
Dowsing adds to slipform concrete fleet
Dowsing has now taken delivery of a new Wirtgen SP 25 slipform paver to add to our growing slipform concrete fleet. This new addition brings Dowsing's slipform fleet to three machines, the largest in Western Australia. Our current slipform fleet include: Wirtgen SP 25 Gomaco 3600 Gomaco Commander III OUR NEW WIRTGEN SP 25 SLIPFORM...