Dowsing adds to slipform concrete fleet
Dowsing has now taken delivery of a new Wirtgen SP 25 slipform paver to add to our growing slipform concrete fleet. This new addition brings Dowsing's slipform fleet to three machines, the largest in Western Australia. Our current slipform fleet include:
Wirtgen SP 25

Gomaco 3600

Gomaco Commander III
OUR NEW WIRTGEN SP 25 SLIPFORM PAVER
The Wirtgen SP 25 is an extremely versatile multipurpose machine with a wide range of concreting purposes.
It can pave a diverse range of offset profiles. It's capable of paving narrow roads, agricultural and bicycle paths, canals and gutters of different sizes in inset application producing high quality concrete paving.
Gomaco 3600
The Gomaco 3600 is designed for quick and easy mobility for moving from job-to-job. This machine's applications are for kerb and gutter, tight radii, cul-de-sacs, safety barriers, bridge parapets, sidewalks/recreational paths (Gomaco Resources).
GOMACO COMMANDER III
The Gomaco Commander III is the best selling multi-purpose slipform concrete machine, it has new G+ technology that enables efficiency. Read more about the Gomaco Commander III capabilities here. 
THE ADVANTAGES OF HAVING A SLIPFORM CONCRETE FLEET
Having a range of machines allows us to undertake a wide variety of jobs and applications.  Different machines cater for different sized concrete structures and the direction of the concrete pour. Large machines can cover a lot of ground within a shorter timeframe and smaller machines can operate on tight sites.
Having a range of machines means we can take on large or small slipform concrete projects, it increases the variety of jobs that can be undertaken using slipform as well as the scope of what we can do on any one job.
Having a variety of slipform machines gives us the flexibility to mobilise a machine for the entirety of a project. This mitigates the risk of scheduling clashes if a machine needs to stay on an existing project when it is scheduled to be relocated to the next – for example if the existing project scope changes and the machine is needed for longer. This allows us to be flexible if there are changes on project requirements or unexpected project delays.
This new machine will be available for both wet and dry hire. Check out our Collie Motorplex Case Study to read more about our slipform service and see how we've used our innovative approach to provide great outcomes for the people we work with.
Latest Stories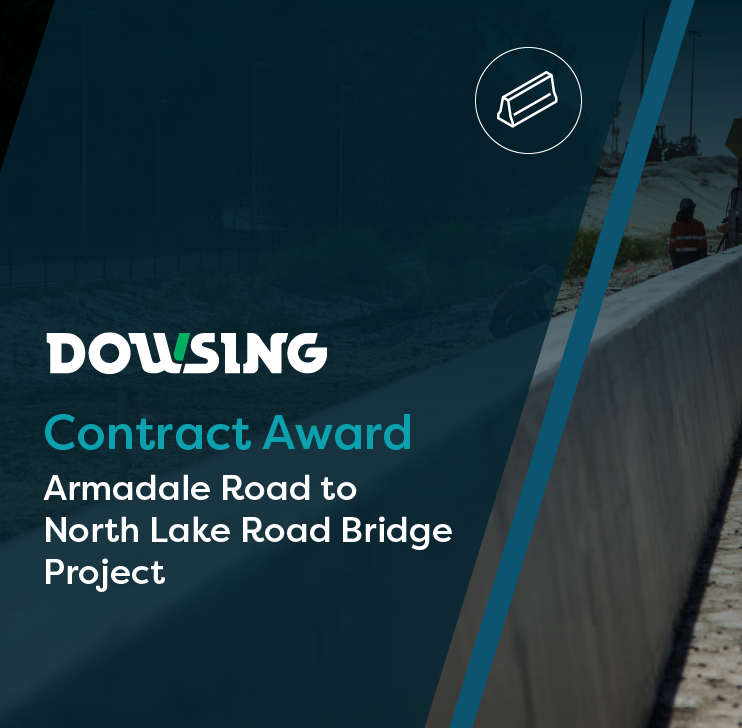 Dowsing Awarded Armadale Road to North Lake Road Bridge Project Slipform Contract
Dowsing Group is pleased to advise that we have been awarded the slipform concrete barrier contract for the Armadale Road to North Lake Road Bridge Project being delivered by the Armadale Access Alliance. Selected as the preferred slipform contractor, the project will involve a bridge constructed to connect the recently upgraded Armadale Road with North...
Slipform: The Go-to Method for Large Concrete Construction
There's no doubt that the use of slipform concrete has completely changed the concrete construction industry in Perth. Here are a few key reasons: Slipform machines produce continuous, non-interrupted, cast-in-place concrete barriers with an exceptional finish. The machines are fast and efficient, require less labour and the concrete is faster drying. Slipform machines allow for...
Dowsing Group Secures City of Joondalup Road Profiling Contract
Dowsing Group is set to provide road pavement profiling services to the City of Joondalup after being awarded the City's profiling contract for a period of up to 5 years, commencing November 2020. The contract marks another milestone for the Dowsing Profiling division and highlights our commitment to providing diversified services that assists enhancing local...