Rio Tinto's Silvergrass East Project: Slipform Concrete Conveyor Footing
Dowsing Group constructed 8.4 km of slipform concrete overland conveyor footing at
 

Rio Tinto's Silvergrass East

 

iron ore mine, which opened in 2017.

Dowsing was contracted by RCR Tomlinson, the lead process contractor, on the $468 million project to complete the slipform component, which holds a large scale conveyor for the iron ore mine. 

This was the first time in Australia that a slipform extruding machine was used to continually pour. This required a considerable amount of time trialling different mixes. Due to the size and scope of the project, Dowsing dedicated more than 6 months to design, plan and test specifications.

Dowsing mobilised an experienced crew, with a dedicated project manager, to ensure the project was completed within the expected timeframe, and to the safety and quality requirements of Rio Tinto and RCR Tomlinson.

We worked closely with the RCR Tomlinson resources team and a dedicated concrete supplier to create a mix that would meet the specifications and function of the slipform extrusion machine.

The slipform component of the project needed to be completed in the shortest amount of time possible due to restrictions in the overall project schedule. Dowsing was able to complete the pour in approximately 3 weeks, well within the client's expectations.
PROJECT SPECIFICS
Dowsing was contracted to pour 8.4 km of 2 metre wide, 150 mm thick fibre reinforced concrete footing for a large scale overland conveyor. We calculated that on average we poured 500 lineal metres per day in order to meet the project time requirements.
Through our extensive research and design process, we tested mix designs for suitability in trial sections prior to the work beginning. This ensured we perfected the correct mix and design to ensure no delays to the timeline and the quality of the job met client expectations. 
A Gomaco Slipform machine was mobilised from Perth to Tom Price, as well as our latest GPS technology to ensure precise alignment and a high quality grade. 
Due to the weather conditions at the mine site, we treated the concrete with curing compound as well as an additional layer of aliphatic alcohol, which controls the evaporation of bleed water on freshly laid concrete.
We made sure we adhered to Rio Tinto's strict safety requirements, which meant closely evaluating safety processes and procedures, and made sure our finished product matched expectations.
"Thank you and your team for the excellent performance that you guys have displayed throughout your time with us on the Silvergrass East project."
– Colin Sermon, Construction Manager RCR Tomlinson.
FINAL THOUGHTS
Dowsing worked efficiently and effectively to the client's timeframe. Mobilising a whole crew with the slipform machine up to the site ensured we took a completely 'hands on' approach to management of the project. This made sure the project was finished on time, on budget and to a high standard.
Due to the time spent on planning, ensuring we got the job done right the first time, considerable cost savings were made for our client. And following the success of this project, current negotiations are underway to implement this methodology again for future slipform projects throughout Australia.
Rio Tinto Silvergrass mine opened in late 2017, and we are proud that Dowsing got to be a part of this project.
Read up on slipform paving and see how this versatile machine can be used in different environments and for different applications.
Latest Stories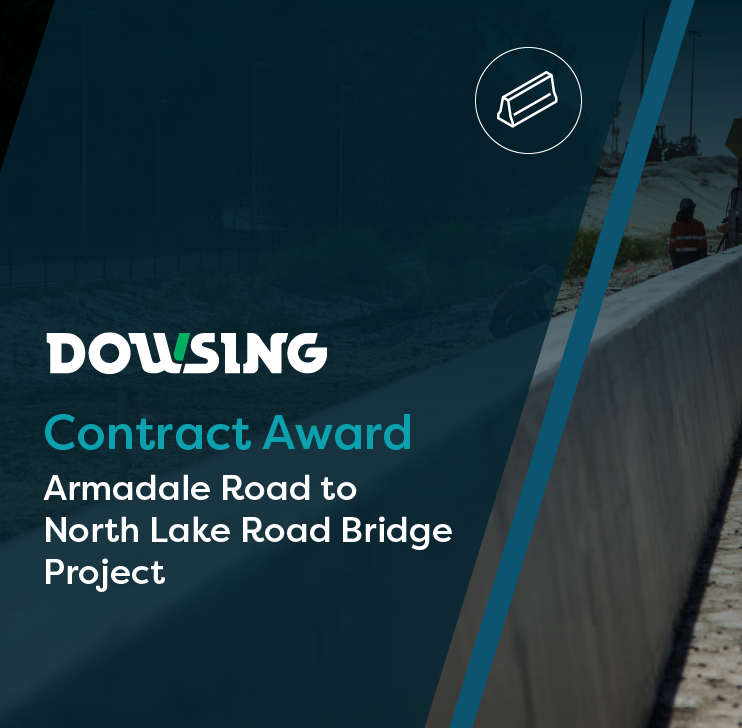 Dowsing Awarded Armadale Road to North Lake Road Bridge Project Slipform Contract
Dowsing Group is pleased to advise that we have been awarded the slipform concrete barrier contract for the Armadale Road to North Lake Road Bridge Project being delivered by the Armadale Access Alliance. Selected as the preferred slipform contractor, the project will involve a bridge constructed to connect the recently upgraded Armadale Road with North...
Slipform: The Go-to Method for Large Concrete Construction
There's no doubt that the use of slipform concrete has completely changed the concrete construction industry in Perth. Here are a few key reasons: Slipform machines produce continuous, non-interrupted, cast-in-place concrete barriers with an exceptional finish. The machines are fast and efficient, require less labour and the concrete is faster drying. Slipform machines allow for...
Dowsing Group Secures City of Joondalup Road Profiling Contract
Dowsing Group is set to provide road pavement profiling services to the City of Joondalup after being awarded the City's profiling contract for a period of up to 5 years, commencing November 2020. The contract marks another milestone for the Dowsing Profiling division and highlights our commitment to providing diversified services that assists enhancing local...