Dowsing Group awarded platinum status in WorkSafe's Plan Audit
Dowsing Group is very proud to announce we have been awarded 'Platinum' status for our Safety Management Systems under the WorkSafe Plan Audit.
The WorkSafe Plan Audit is a comprehensive government-led assessment by the Department of Mines, Industry Regulation and Safety (WorkSafe) used to rate workplace safety and health management and to assess the extent to which an organisation is complying with legislative requirements.
WorkSafe Plan Certificates of Achievement are presented at three levels; Silver, Gold and Platinum. Platinum Certificates are for organisations that achieve the highest standards and are only attained by a select few businesses within Western Australia each year. In 2018 Dowsing was one of only seven companies to achieve a Platinum Certificate.
At Dowsing we have an uncompromising focus on safety which influences every aspect of our business and resonates through our risk mitigation efforts and employee wellbeing strategy. This focus is integral to every project we undertake and is captured in our core company value 'Delivery' which drives us to achieve the best possible outcomes without compromising on safety.  
AREAS OF EXCELLENCE
In order to achieve Platinum certification, we achieved excellence in each of the five WorkSafe Plan elements:
Management commitment;

Planning;

Consultation and reporting;

Hazard management; and

Training and supervision
Dowsing Group had an exemplary score in all categories due to our commitment to maintaining the highest safety processes, health standards and our continual review of these systems in order to ensure this. Learn more about the WorkSafe Plan standards, indicators and scoring method for each of the elements here.
Being awarded Platinum certification reinforces our excellent continued and historical safety and quality performance (with more than five years lost-time injury free in a high-risk workplace). It is another feather in our cap following our achievement in December 2017 of three ISO (International Organisation for Standardisation) and one AS (Australian Standard) accreditations, including two in the area of occupational health and safety management systems. Read more about how we achieved our ISO accreditation.
DOWSING'S ONGOING COMMITMENT TO SAFETY MANAGEMENT
Dowsing's systems and processes which underpin our WorkSafe Plan Platinum Certificate and accreditations form part of our Integrated Management Systems. We continue to undertake ongoing assessment of all our systems as part of our commitment to maintaining our high standards in safety, environment and quality.
Latest Stories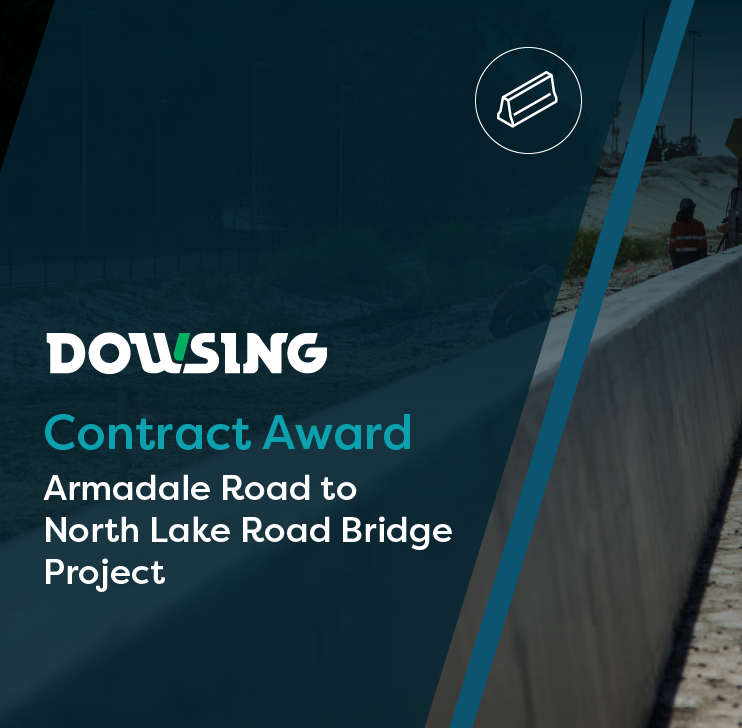 Dowsing Awarded Armadale Road to North Lake Road Bridge Project Slipform Contract
Dowsing Group is pleased to advise that we have been awarded the slipform concrete barrier contract for the Armadale Road to North Lake Road Bridge Project being delivered by the Armadale Access Alliance. Selected as the preferred slipform contractor, the project will involve a bridge constructed to connect the recently upgraded Armadale Road with North...
Slipform: The Go-to Method for Large Concrete Construction
There's no doubt that the use of slipform concrete has completely changed the concrete construction industry in Perth. Here are a few key reasons: Slipform machines produce continuous, non-interrupted, cast-in-place concrete barriers with an exceptional finish. The machines are fast and efficient, require less labour and the concrete is faster drying. Slipform machines allow for...
Dowsing Group Secures City of Joondalup Road Profiling Contract
Dowsing Group is set to provide road pavement profiling services to the City of Joondalup after being awarded the City's profiling contract for a period of up to 5 years, commencing November 2020. The contract marks another milestone for the Dowsing Profiling division and highlights our commitment to providing diversified services that assists enhancing local...