Dowsing Group AS & ISO Accredited
Our ISO and Australian Standard accreditations were a significant undertaking but the benefit of our hard work was realised in December 2017 when we became one of the ISO certified construction companies in Australia.
ISO stands for 'International Organisation for Standardisation' and is a certification which demonstrates that our company follows both internationally recognised and Australian Standardised management principles.
The recognition reinforces and demonstrates our commitment to quality work, safety processes and environmental regulations and sustainability.
We thought we'd share how Dowsing Group achieved its AS and ISO accreditations and how they will continue to benefit company operations and our clients in the future.
DOWSING'S ISO AND AS ACCREDITATIONS
Dowsing has achieved four accreditations:
Quality management systems: ISO 9001:2015

Environmental management systems: ISO 14001:2015

Occupational health and safety management systems: OHSAS 18001:2007

Occupational health and safety management systems: AS 4801:2001
A requirement to achieve these accreditations is that you have to get all your systems to a robust state in order to pass the scrutiny of the accreditation bodies. We worked with a well respected West Australian accreditation body, who have a great reputation for working with well known companies.
We spent 18 months developing and improving our systems and in June 2017 started to put each system in place to achieve accreditation in December 2017.
We have a really good safety record (with more than five years lost-time injury free in a high risk work place) and ensure all our systems remain completely transparent. So for us, the accreditations are a well deserved recognition which reinforces and demonstrates our excellent continued and historical safety, environment and quality performance.
All of Dowsing's systems and processes which underpin these accreditations form part of what we call our IMS (Integrated Management Systems). We employ a dedicated resource, our IMS-Coordinator, to manage and continually improve our IMS.
ONGOING ASSESSMENT
Keeping accreditations means maintaining your high standards. There is a 12 month (annual) audit as well as an audit from an independent third party every 6 months. To ensure we're always at the top of our game, Dowsing also regularly conducts our own system audits.
We appointed a new SEQ Manager, Ryan Knight in February 2018 demonstrating our ongoing commitment to safety, environment and quality.
BENEFITS FOR COMPANY OPERATIONS AND CLIENTS
Being an ISO and Australian Standard certified construction company in Australia benefits our company and clients in a number of ways:
Accreditation demonstrates a commitment to service quality which means our clients can be confident in the quality of our processes, practices and the work delivered.

Accreditation opens up future opportunities and a pathway for continual improvement in internal efficiencies and reducing costs. Operations are more meaningful going forward because employees understand the requirement for ongoing improvement.

Accreditation provides evidence that we've got the systems in place that measure up! This means our clients don't need to spend time and cost to audit our systems.
Dowsing Group is an experienced civil contractor based in Perth, providing services Australia wide. Find out more about us, or contact us for a quote.
Latest Stories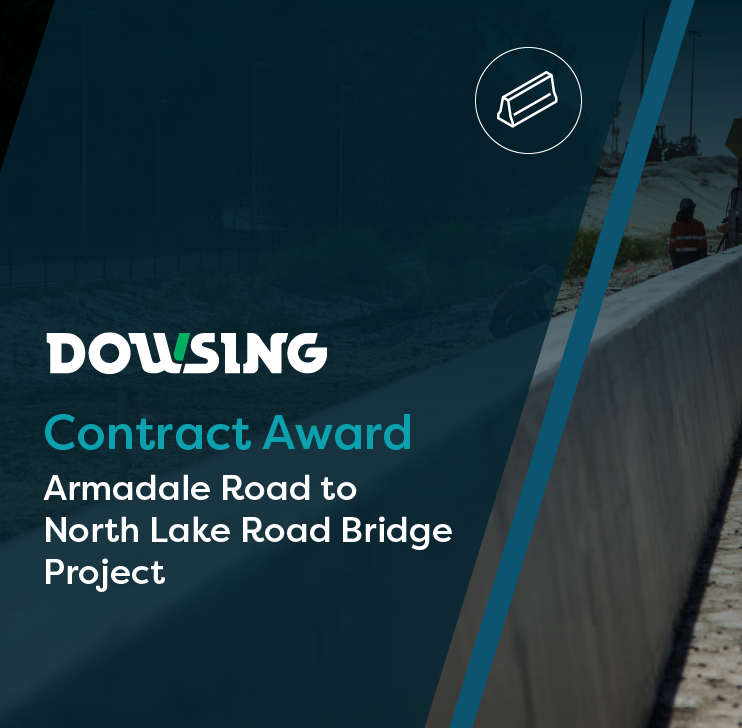 Dowsing Awarded Armadale Road to North Lake Road Bridge Project Slipform Contract
Dowsing Group is pleased to advise that we have been awarded the slipform concrete barrier contract for the Armadale Road to North Lake Road Bridge Project being delivered by the Armadale Access Alliance. Selected as the preferred slipform contractor, the project will involve a bridge constructed to connect the recently upgraded Armadale Road with North...
Slipform: The Go-to Method for Large Concrete Construction
There's no doubt that the use of slipform concrete has completely changed the concrete construction industry in Perth. Here are a few key reasons: Slipform machines produce continuous, non-interrupted, cast-in-place concrete barriers with an exceptional finish. The machines are fast and efficient, require less labour and the concrete is faster drying. Slipform machines allow for...
Dowsing Group Secures City of Joondalup Road Profiling Contract
Dowsing Group is set to provide road pavement profiling services to the City of Joondalup after being awarded the City's profiling contract for a period of up to 5 years, commencing November 2020. The contract marks another milestone for the Dowsing Profiling division and highlights our commitment to providing diversified services that assists enhancing local...