Slipform: The Go-to Method for Large Concrete Construction
There's no doubt that the use of slipform concrete has completely changed the concrete construction industry in Perth. Here are a few key reasons:
Slipform machines produce continuous, non-interrupted, cast-in-place concrete barriers with an exceptional finish.

The machines are fast and efficient, require less labour and the concrete is faster drying.

Slipform machines allow for increased levels of productivity to reduce overall construction time and deliver significant cost savings compared with the old traditional way of formed concrete.

Slipform produces less noise and vibration, and a lower risk of damage to existing assets.
Slipform contractors can also invest in technological add-ons. A GPS can be added to a slipform machine to guide it and keep it completely on track to mm precision.
But, a successful slipform project is not as simple as just having the right machinery and the best technology. You need the right skills, approach and relationships to get the best outcomes with slipform.
SLIPFORM SKILLS AND TRAINING
Because slipform concrete machines are specialised equipment, operators need to learn the right skills and expertise. It's not enough to be skilled in concrete, you need to know and understand slipform paving and the many different variables that can come up throughout a pour.
Make sure the team working on your slipform project has been properly trained and has developed their skills using slipform specifically. Ask your slipform contractor about their skills development program. If they are serious about getting the best result from the machine and the best outcome for the job, they will have invested in training programs.
Having an in-house program in particular will ensure their team members get ongoing training and continue to develop and refine their skills on a continuous basis.
Find out if your contractor is also investing in R&D, as they'll be able to teach their team new skills and new ways of doing things as they find them.
SLIPFORM MACHINE R&D
As well as an in-house training program for staff, the best contractors will be investing in research and development to explore and push the capabilities of their machines and expand the scope of what can be done with slipform concrete.
If you've got a project in Perth, but have never seen it done with slipform, it's still worth investigating. Innovative contractors will be willing to tackle tricky design challenges and complex construction issues to see if they can find a slipform solution. This may include undertaking R&D to trial and test different moulds and concrete mixes to get the design right and tailor the right slump mix for the project.
Make sure you choose a contractor that is at the head of the pack when it comes to research and development as they'll be at the forefront of what can be done with slipform.
RELATIONSHIP WITH CONCRETE SUPPLIER
It's absolutely key that your slipform contractor has an excellent relationship with their concrete supplier. You may be tempted to think "that's their business", but it's worth finding out as problems with concrete supply or the mix will have a real impact on site. The last thing you need is a contractor blaming the concrete supplier because they've failed to properly communicate and plan effectively.  
Getting slipform to work at its peak, and getting the cost and time saving advantages, relies on there being concrete available for the machine. This means your slipform contractor needs to plan your project in consultation with their concrete supplier to ensure there is a steady supply of concrete.
Good communication is needed to ensure the supplier understands and will deliver the specific concrete mix they've been given for the particular project.
A good contractor supplier relationship will include planning the logistics and having ongoing discussions. It's not just about the number of trucks/day, it needs to get down to thinking about roadworks or other delays between the concrete plant and the job. And this dialogue needs to continue until the job is finished.
There should also be scenario planning and a back-up plan worked out together to agree how the concrete supplier will respond to keep things on track if the situation changes before or during the job.
FINAL THOUGHTS
Getting the best outcome and delivering a successful concrete construction project in Perth is not just as easy as buying a slipform machine and having the best technology.  
Choosing the right contractor makes all the difference.
A contractor with ongoing team training and R&D programs will have better refined their process to allow for maximum production rates, and perfected the mix for different outcomes and applications. A contractor that has also partnered with a good supplier will mean they're able to confidently take on a wide variety of projects – which may be beyond the common perception of what a slipform machine can do.
Latest Stories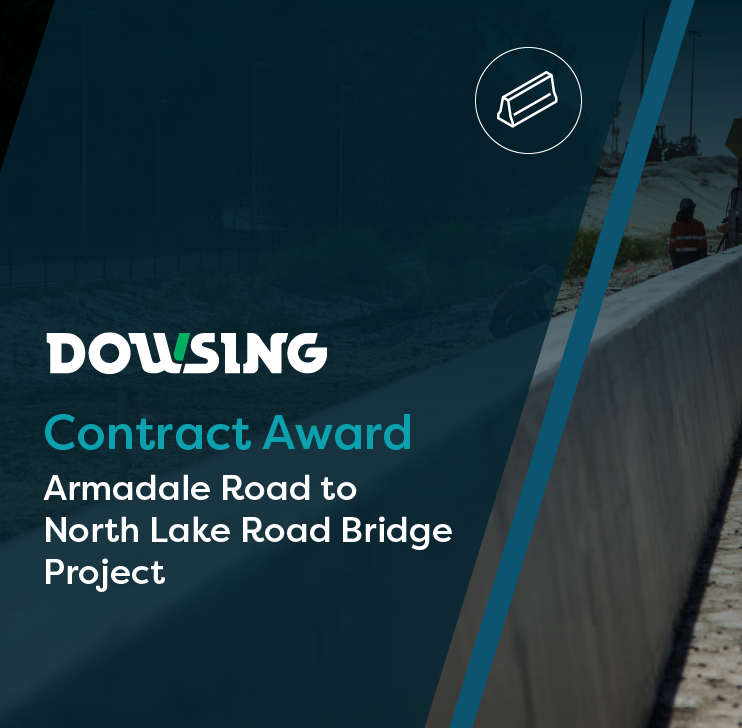 Dowsing Awarded Armadale Road to North Lake Road Bridge Project Slipform Contract
Dowsing Group is pleased to advise that we have been awarded the slipform concrete barrier contract for the Armadale Road to North Lake Road Bridge Project being delivered by the Armadale Access Alliance. Selected as the preferred slipform contractor, the project will involve a bridge constructed to connect the recently upgraded Armadale Road with North...
Dowsing Group Secures City of Joondalup Road Profiling Contract
Dowsing Group is set to provide road pavement profiling services to the City of Joondalup after being awarded the City's profiling contract for a period of up to 5 years, commencing November 2020. The contract marks another milestone for the Dowsing Profiling division and highlights our commitment to providing diversified services that assists enhancing local...
Business News Feature: Keeping it in the family
Dowsing Group brothers, Bohdan and Sam Dowsing, spoke with Business News on the company's hardscapes division leadership change. Keeping it in the family at Dowsing has been pivotal to our growth in the local government sector and the foundations of the family-values culture at Dowsing. Recently, the hardscapes division baton was passed on to Sam...